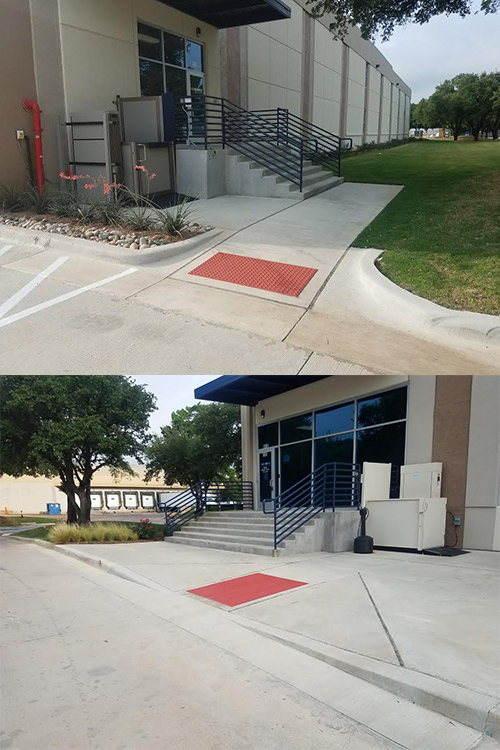 There's a reason cities like Dallas, Garland, Richardson, and Plano, TX, along with other locales in the Dallas County, TX region, are referred to as a "concrete jungle." It's because everywhere you look, there's concrete—from driveways and sidewalks to foundation extensions and beyond. When it comes to commercial concrete, Cowboy Concrete is the king of the jungle.
Our experienced professionals are able to place and finish concrete for just about any project you might need, and we do so with the absolute best precision and thoroughness. When we step away from a job, you can be sure it's done to perfection. Some of our capabilities include:
Sidewalks: Our experts are the finest sidewalk pavers! We've constructed sidewalks of all sizes and lengths, ensuring pedestrians have enough space to stay safe and orderly where they're walking.
Slabs: Whether you're repairing a floor or developing an area for urban art, trust us to set the tone for future development with an expertly-poured concrete slab.
Stamped and decorative concrete: Decorative and stamped concrete is a beautiful way to change the façade and appeal of poured concrete, without having to invest in costlier materials. Let us add flair to your commercial flatwork with decorative concrete.
ADA ramps: We're intimately familiar with ADA compliance standards when it comes to permanent ramps. To ensure smooth, seamless access to your commercial facility, call upon our team for an ADA-compliant ramp.
In addition to all of the new pouring capabilities listed above, we also offer concrete sidewalk repair, among other repair and re-pouring services. For more information about our commercial capabilities, along with our residential work as driveway pavers, please contact us today by calling 214-503-6244.