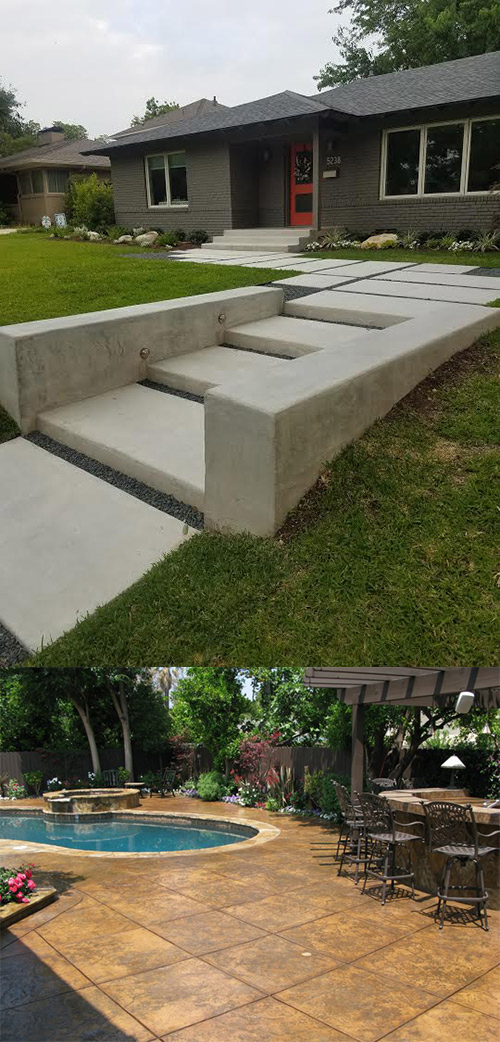 Finely-poured concrete has tremendous curb appeal for a home. When you have a pristine driveway without cracks and a perfectly-aligned walkway to your front door, it's a major value-add for your home. Cowboy Concrete is ready to help you place and finish your concrete to a new level of excellence. We pride ourselves on being the foremost residential concrete contractors in Dallas, Garland, Richardson, Plano, and Dallas County, TX.
Our concrete capabilities span the gamut and we're willing to tackle projects of any size and scope. From a simple walking path to a brand-new driveway or patio, turn to us for a finished product that's guaranteed to look beautiful for years to come. Some of our capabilities include:
Driveways: Our experienced driveway pavers can install driveways of all sizes and shapes.
Walkways and steps: If you've got cracked walkways or crumbling stairs, allow us to repave them! We can construct or replace sidewalks and stairs to perfection. This keeps people safe on your property.
Patios: Not only can we pave patio slabs of all sizes and shapes, we can also stamp them to enhance the appeal of your outdoor space! Consult with us today about our stamped concrete patio options.
Retaining walls: Retaining walls can be both beautiful and functional. If you need one for erosion control purposes or just want a natural break and focal point on your landscape, contact us for a well-crafted retaining wall.
Pool decks: The perfect pool deck can make an already enjoyable feature even better in your backyard. Consult with our pool deck pavers and watch as we enhance the allure of your in-ground pool.
Exposed aggregate: We're adept at pouring exposed aggregate concrete, to add texture and allure to various applications. Feel free to consult with us about our capabilities when it comes to exposed aggregate.
Garage Foundations: Whether you're erecting a single, double or triple garage, we're the company to construct the foundation.
Additions: Building an addition to your home starts with the right foundation. We'll work with your developer or contractor to ensure all of the specifications are being met for your expansion.
For more information about our residential concrete capabilities or to inquire about our commercial work, including stamped and decorative concrete, please contact us today by calling 214-503-6244.